Gain More Email Subscribers
Convert Visitors Into Loyal Followers
Bloom gives you all the tools you need to turn your website's visitors into loyal followers and customers. Not only is Bloom going to convert extremely well, it's going to look great doing it.
More Email Subscribers
Email marketing is extremely powerful, in fact we see 20X the engagement from emails than we do from posts to our social media profiles.
Highly Targeted Content
Bloom lets you target or exclude specific posts and pages and display unique forms with unique offers based on visitor location and interaction.
Elegant Design Options
Bloom lets you target or exclude specific posts and pages and display unique forms with unique offers based on visitor location and interaction.
Different Display Types
Different websites, pages, and posts may require different targeting configurations. That's why we've included a large selection of opt-in types and locations that can be used anywhere on your website...
Automatic Opt-In Pop-Up
Bloom lets you create automatic opt-in pop-ups that can be triggered by timed delays, when a user reaches the bottom of a post or page, or even after they comment or purchase. This is an extremely effective way to generate and convert leads.
Automatic Opt-In Fly-Ins
Similar to triggered pop-ups, fly-ins are another great way to grab your readers' attention. Again, these can be triggered by user interaction such as timed delays or at the end of a page.
Inline Opt-In Forms
Sometimes there is need for a more location specific approach than you can get with a global pop-up or fly-in. That's where inline opt-in forms come in. Simply configure your form, generate its shortcode, and place it inside the WordPress post editor.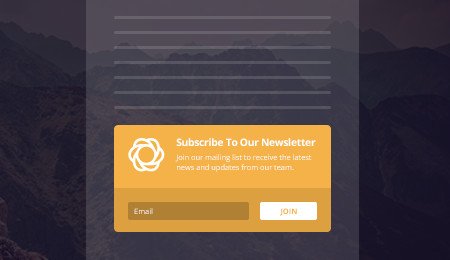 Below Content Opt-In Forms
Perfect for blog posts and content heavy pages, Bloom allows you to automatically place opt-in forms below your post or page content, capturing the attention of your most engaged readers without upsetting their reading experience.
Widget Area Opt-In Forms
Sidebars and footers are great places to add an opt-in box. Bloom makes it easy to add opt-ins to any widget-ready area using the Bloom widget. Create as many widgets as you like and add them to any widget-ready area on your website.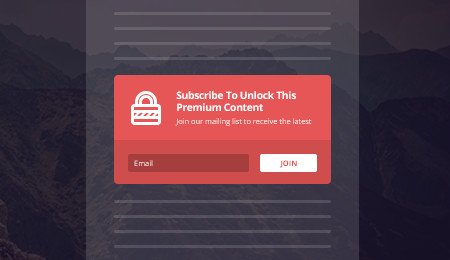 Require Opt-In To Unlock Content
Requiring users to subscribe to your lists before gaining access to premium content is a great way increase your subscriber count. Bloom can act as a pay-wall between your free resources and your visitors, quickly turning traffic into loyal followers.
Automatic Pop-Up & Fly-In Triggers
Not only do different websites, pages, and posts have different opt-in form needs, but sometimes you also want to direct specific forms and offers based on specific user interaction. The triggers below allow you to add this extra level of specificity to hone in on your audience and gain even higher conversion rates.
Timed Delay
Choose a timed delay for your pop-ups and fly-ins so that they trigger after your readers have been on a page for a specific duration of time.
Bottom of Post
Let Bloom auto detect when your readers reach the bottom of a post or page and give your readers a friendly reminder to opt-in.
After Scrolling
Use this trigger to display your opt-in forms only after the a visitor scrolls a defined percentage of the way down your page.
After Commenting
Displaying opt-in forms to readers after commenting on a post or page is a sure way to target visitors who are clearly engaged with your content.
After Purchasing
Offer updates on future products and promotions by triggering an opt-in form for purchasing visitors right after the checkout process.
After Inactivity
If a user is inactive on your page for too long, Bloom can be triggered to re-catch your visitor's attention with a pop-up or fly-in.
12 Email Marketing Integrations
Bloom gives you the power to display opt-in forms using integrations of the most popular email marketing systems available. Bloom seamlessly obtains information about all of your lists and subscriber counts | AWeber | MailChimp | Campaign Monitor | Constant Contact | Mad Mimi | Infusionsoft | iContact | GetResponse | mailpoet
An Elegant Approach To Design
Well-designed opt-in forms that look like they belong specifically to your website are key to creating trust. Blooms comes with a ton of different design settings, allowing you to adjust just about every aspect of your opt-in form.
Start From Any of 100+ Pre-made Templates
Bloom comes with 115 pre-made templates that let you get started with beautifully designed opt-in forms in seconds. These can then be fully customized to look exactly they way you envisioned.

Select from 3 Opt-In Form Orientations
Depending on your opt-in's location and type, you may want to place you form below or on the side of your opt-in. Bloom gives you 3 orientations to choose from: bottom, left, or right.
Customized Borders & Edges
Select from Bloom's different border styles and choose which edges to apply them too. You can also define an edge style that separates your opt-in's content from its form fields.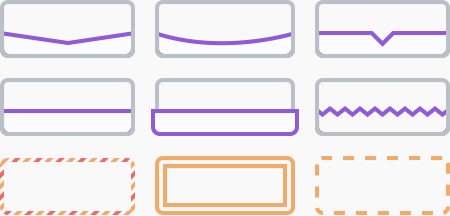 Image Orientation Options
You can add any image to your opt-in while also having the options to display it to the left, the right, above or below your opt-in's text content.
Unlimited Color Options
In addition to border, edge, form field, and text content options, you also have full control over the colors that define these elements. Enjoy unlimited color options for all the elements within your opt-in forms.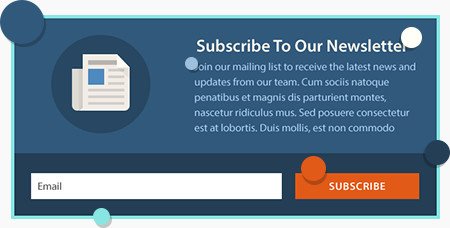 Highly Targeted Display Settings
Display settings are used to control where on your website your opt-in will appear, and well as when it will appear. You can choose to display your opt-in on your entire site, or you can choose to display you opt-in on individual posts or post types. Create unlimited opt-in forms and tailor them to specific pages and specific visitors to increase your conversion rates.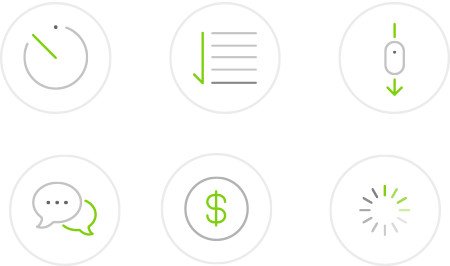 Automatic Fly-Ins and Pop-Ups Triggers
If you are creating a pop-up or fly-in you need to have full control over what triggers this automation. Bloom let's you trigger your opt-ins based on a timed delay, at the bottom of a post or page, after scrolling, after commenting, after purchasing, and/or after the user is inactive on your page for a defined amount of time.
Target Specific Post Types and Categories
Bloom's display settings give you global options for displaying your opt-in on selected post and page types, along with specific categories within them.
Refine on a Per Post or Page Level
For an extra level of display targeting, you can even specify specific pages and post to either display or not display an opt-in on.
The Dashboard
Setting up and managing your Bloom settings is anything but complicated. We've created a custom panel in the WordPress dashboard for easy and intuitive access to you Bloom accounts, lists, opt-ins, conversion rates, and data.

Increase Conversions With A/B Testing
Split testing lets you compare the performance of multiple variations of the same opt-in form to help you figure out which one is the most effective. These different variations will be shown to different visitors, and their conversion rates will be compared to each other so you can see which one is the highest performing variation.
Add, Modify, and Track Accounts
You can add an unlimited number of email marketing accounts and Bloom will organize your accounts by provider and also aggregate the lists and subscriber counts that are associated with those accounts. When you are building opt-in forms, you can then choose from any of these lists, or even setup an account on the fly.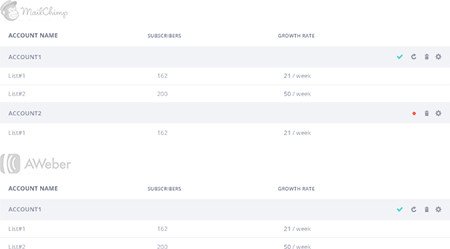 Conversion and Email List Statistics
It is almost impossible to refine and improve the way you are targeting your visitors without actionable insights around when, where, and how your opt-ins are converting the best. That's why we've created a robust statistics dashboard to give you a real-time overview of Bloom's performance.
Import and Export Bloom Data
Bloom lets you easily import and export its data from one site to another. In addition to migration, this is also a great way to backup your Bloom settings and data on a regular basis.
Responsive & Retina Ready
We know that your opt-in forms needs to be readable and accessible from all devices, allowing visitors to opt-in no matter how they are viewing your site. Blooms opt-in forms and dashboard are fully responsive and look great all the way down to even the smallest mobile devices and highest resolution screens.